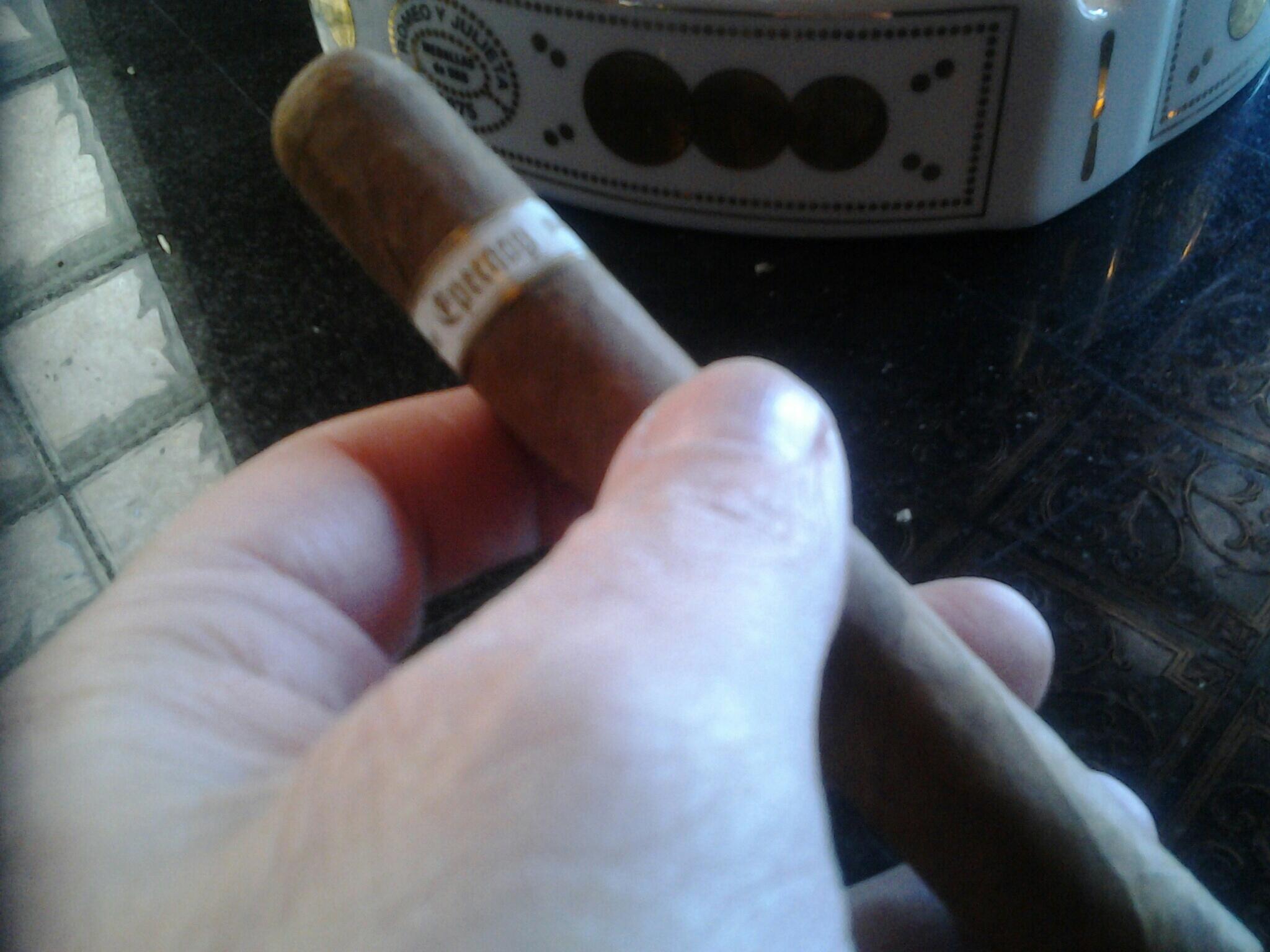 Sunday was my last day in New Jersey, so I decided to seek out one more cigar shop to check out, one in Nutley NJ.  I arrived at 12:15 to a closed store with signs all over the glass saying they were open at noon every day.  I waited around until 12:30 when I decided that there was a perfectly good shop five minutes away that I knew would be open.  I made my way back to Cigar Emporium, the scene of Saturday's terrific herf.  I once again perused the generously stocked humidor and decided it was about time I tried my first Illusione cigar, and, having heard good things about the Epernay, I opened my wallet and picked one out.  I should mention that at the time I was suffering from another migraine, and  took an Imitrex upon arrival.  These things whack me out pretty good, so I want to be someplace comfortable when I take one.  The Epernay was a nice cigar, it burned pretty well considering it came right out of the store walk-in.  It was quite tasty and smoked for nearly two hours.  If you find yourself in Lyndhurst, New Jersey, hunt this place down. It's a friendly and well appointed store and lounge.  The clientele and staff were friendly and accomodating and  I had as nice a time there Sunday as I did the day before.
Monday evening I selected a cigar that Antonio Lam stuck in my hand, a prototype of a Reinado Grand Empire Reserve box pressed toro.  This is a new line extension to the Grand Empire Reserve line which had only come in a 5×55 Robusto.  This cigar has the same Habano Maduro wrapper, and is a beauty.  We are getting warmer weather here and it was a nice cigar for a long walk in the neighborhood.  The toro size just provides more of a good thing, since the Grand Empire Reserve is a spectacular cigar.  Rich and loaded with flavor, Antonio has another winner on his hands, and I look forward to seeing this size appear on the shelves.  I belive he also had a 6″x 60 he was waving around.  Good stuff from the Empire of Reinado!
Tuesday brought another nice evening for an after dinner walk, so I grabbed the Liga Privada Serie Unico UF-13 Dark that the folks at Drew Estate sent my way a few weeks ago.  I'm sure you've read other reviews by now, and the few I've read have been positive.  I loved the cigar, even if it was a bit strong out of the gate.  It mellowed out some and gave me a very satisfying smoking experience.  You have to love the care and attention to detail that goes into these, although the nice little flagged pigtail on this example broke off in transit.  Still, one does not smoke that part, and the part I did smoke was pretty stellar.  It will be very interesting to see what they have up their sleeves in a few weeks when I, once again, visit the promised land which is  Esteli and the Drew Estate Compound.  Have I had a Liga Privada I didn't like?  I doubt it.
As I started writing this post I was sitting on the back deck enjoying the heck out of a Recluse Toro, the last one I had in my humidor.  I still have a double corona, and a couple of the cool Kanu No. 1 perfectos, but this Toro is a thing of beauty.  It's another maduro cigar, and is smooth as silk and tasty as all get out.  It's burned perfectly, besides the Entubar method of construction it's been resting in my humidor since last August.  Anyway, a storm rolled in and I had to pack up the PC and move into the garage so I could finish this great smoke and this post.  Come to think of it, we're in the final days of a week and a half long contest here where someone is going to win a box of the Recluse Kanu No.1!  Get on back to the contest post and leave a comment for a chance to win.  Many thinks to Scott and the gang at Iconic Leaf Cigar Co. for sponsoring this contest.  This prize is on a par with anything I've given away, trust me.  Once again I will be jealous of the winner!! Tune in Sunday to see if you won.
That's it for now.  I have to wait for this storm to pass so I can go try to get my son's car to the shop since it died while he was going to work. It'll be an adventure, I'm sure.  Good thing I'm having a nice, relaxing smoke to settle my nerves!  Until the next time,
CigarCraig