First, a couple of items I've come across in the past week that I think are of interest.  Since Halloween and Día de los Muertos are coming up, my friends at Custom Tobacco are offering two "Skull Candy" band designs to their portfolio of custom bands. Custom Tobacco specializes in custom banding, and the cigars they use are very good. I've had the pleasure of smoking their Briarmont Classic cigar a few years ago (here) and it was of excellent quality and flavor.  Check these folks out if you ever need some custom banded cigars.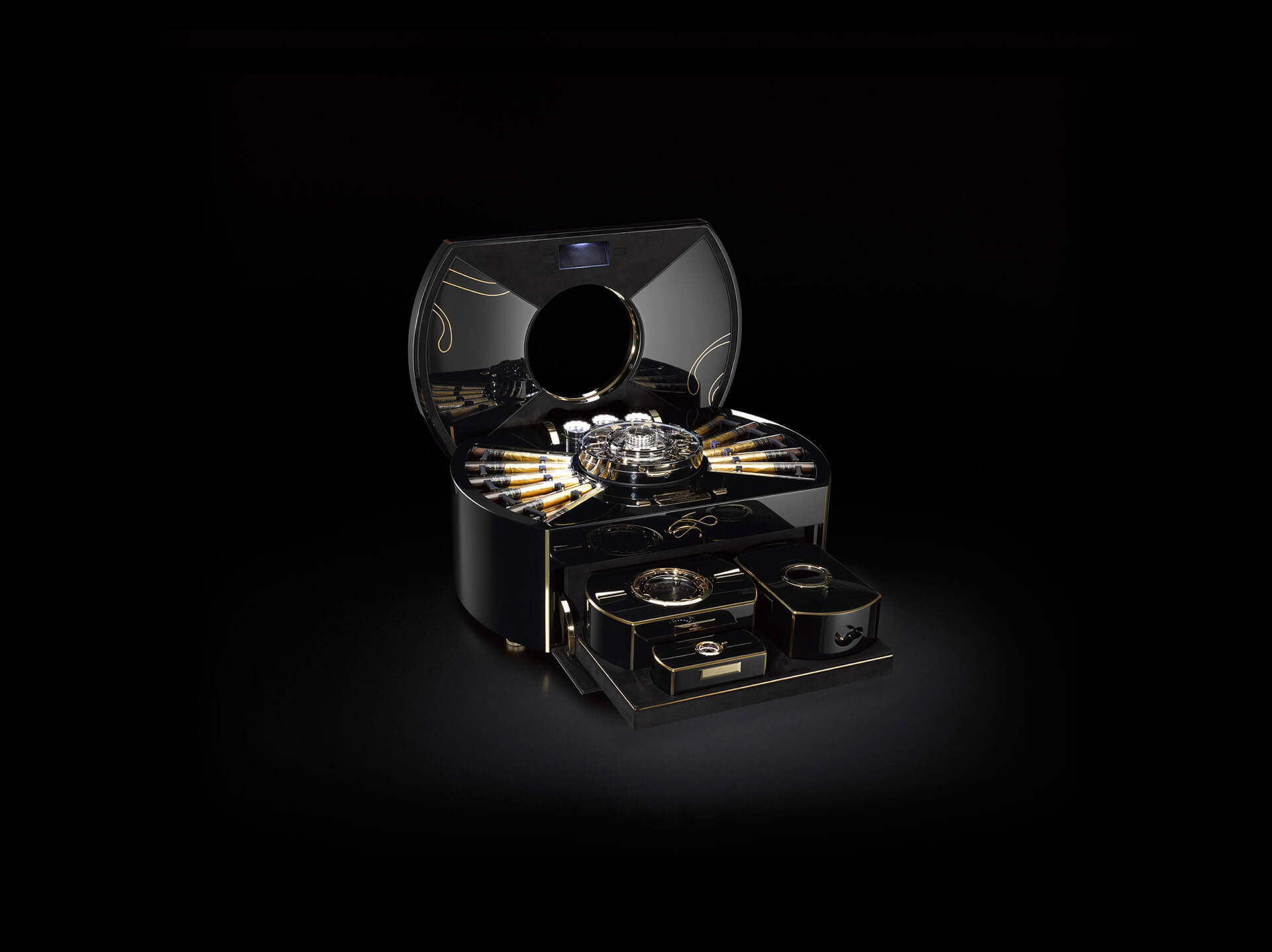 My wife likes to point out unique cigar related items to me when she sees them, and this item falls under the "for the man who has everything" category, and is truly an over the top cigar accessory. The Emperador Cigar Chest has over 2,600 individual part to deliver a luxury cigar accessory. On top is a tourbillion timepiece (I don't know what that is) made from over 300 pieces by a Swiss watchmaker, and surrounded by 24 individual glass tubes, each of which comes pre-packed with a Grand Cru cigar wrapped in four gold leaves (not sure what the cigar is either). This compartment is secured by a passcode, while the included cigar cutter, table lighter, and ashtray sit securely in a front drawer (apparently unprotected by any advanced security features). It pays equal attention to the care of your cigars, incorporating a world's first self-regulating humidity system that needs neither water nor human intervention to keep a constant humidity level of 70% and an internal temperature between 61º and 65º F. I don't quite understand the science behind something that controls humidity without water, but OK. I don't expect to be reviewing this item.
So I had some great cigars this week and a disappointment or two, and I'm not going to name names on the disappointment, lets just say I'm not the only one I've heard of being let down. I moved on to something else that night, and may (or may not) revisit that cigar another time.  I don't see any value in posting negatives as, with all cigars, your mileage may vary.  One of the highlight cigars of the week was one I picked up on a recent visit to Holt's store in Philly. I ended up buying various Pete Johnson cigars and one was the L'Atelier La Mission 1989, which is a  5 5/8″x 54 with a nice little pigtail cap. I had a feeling about this cigar when I picked it up, it just looked like it would be in my wheelhouse. It has a dark, oily San Andrés wrapper, binder from Nicaragua and Nicaraguan fillers. which includes Sancti Spíritus leaf, which is a hybrid of Pelo de Oro and Criollo.  This cigar started out with the spice one expects, and really develops into a rich, complex cigar that is a pleasure to smoke. I loved the espresso-ness of this cigar, I'd smoke this one again for sure.
The next night I replaced my disappointing cigar with a La Flor Dominicana 1994 Tango, a neat little Rothschild size, 4½" x 48.  There are times when I have a cigar that lets me down and I just move on, and there are times when I just need another cigar to un-piss me off. This was such an occasion. The 1994 line is the company's 20th anniversary cigar, commemorating two decades of doing things the right way and making great cigars.  This little LFD is a nice little cigar, rich, smooth and tasty.  This one also has a San Andrés wrapper, although not fermented to the maduro shade that many are. Like many LFD cigars, it's a Dominican cigar with a punch, it's not a mild cigar by any stretch, but full of flavor. I smoked their new La Nox earlier in the week too and was quite impressed, more on that another time.
Saturday we had tickets to see Brian Wilson of the Beach Boys in Atlantic City, but on the way there we stopped at the Wooden Indian for a Room 101 event with Matt Booth (and his area rep "Tom Smith").  I was really looking forward to picking up a few more Johnny Tobacconauts, and got a few in the Ranflactic and Fileriod sizes. I lit up a Ranflactic and we hung out in the Wooden Indian's Liga
Privada Lounge as we had arrived quite early for the two o'clock event.  Matt says that he has originally wanted to call this Johnny Tobaccoseed, but ended up going with the astronaut theme instead, and who can argue that the astronaut on the box doesn't look just like Matt?  Ironically, it turns out that Matt's father is second cousins to the Wilsons of Beach Boys fame, and he was actually being serious when he told us that. The cigar
was great, seeing Matt again was great, and Dave at The Wooden Indian always has great events.  If you were wondering, Matt didn't make an appearance in my IPCPR Secret Question video, but I asked him what his answer would have been, and he said that Dave Lafferty (of Drew Estate) embodies the essence of Matt Booth, so he would play him in the Room 101 movie. I was expecting something more along the lines of Johnny Depp, but OK.  The event was great, then we went to AC, where I enjoyed a Room 101 San Andrés before the great concert, which my wife reviewed on her website here. While
Brian Wilson may not be the best singer, and the years have not been kind to him, he is a legend, someone that artists like the Beatles idolized, and has surrounded himself with a great bunch of musicians. It was a treat hearing all the Beach Boys classics (Al Jardine was also there, so there were two of the original Beach Boys there). It capped off a great day, although the slot machines were not kind to us.
Anyway, that wraps up the week. I did smoke a tasty Leaf by Oscar Maduro also this week too, and there was a Asylum 13 Ogre Lancero that was great as well, although not as complex as it's chubbier siblings. I have plenty more interesting cigars to smoke this week, hopefully there will be some great ones!  Until the next time,
CigarCraig