Friday afternoon my wife came across a tweet from Fred Rewey (@godfadr of Nomad Cigars) saying that he was going to be at an Ezra Zion event at the Wooden Indian Tobacconist in nearby Havertown. I had seen an e-mail about the event, and had no idea that the entire Ezra Zion contingent would be on hand, as well as Fred and Nate McIntyre, the national sales manager for Emilio Cigars, who distributes both the Ezra Zion and Nomad brands.  I visit the Wooden Indian about as often as I visit any local shops, and Dave, the owner, is always friendly and hospitable. If I lived closer that 45 minutes away I would be there more often, but it's worth the drive (and my daughter lives in the same town!) Dave's selection is outstanding and he has the first Liga Privada Lounge, which has been covered on these pages in the past.  We walked into the shop and were surprised to see Chris Kelly of Ezra Zion, as well Alan Fonseca and Kyle Hoover.  Warm greetings all around  what an unexpected surprise.  Then Nate made an appearance and I finally got to meet Fred of Nomad.
I took a spin through the humidor and picked up a sampling of Fred's Nomad line, as well as a few of the Ezra Zion Inception (now called Jamais Vu) in the new Tantrum size as well as the Gran Robusto.  A Gran Robusto was the first lit, and it was terrific.  The tobacco in these cigars is very well aged and top of the top quality.  As much as it hurts me to spend $9+ on a cigar, these cigars are worth the occasional extravagance.  When it looked like we'd be hanging out a little longer, I decided to try the Tantrum,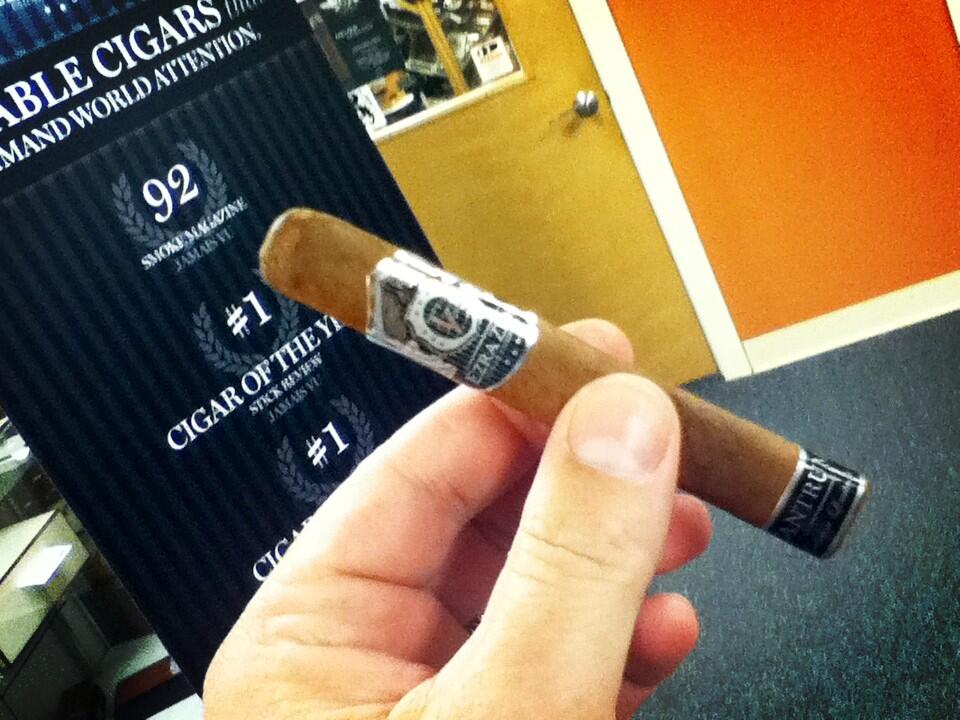 which is a 4.44″ x 44 petite corona that they were referring to as a fire cracker.  Obviously my tastebuds are still compromised from my experiences earlier in the week, because I found it to be a well balanced, full flavored little smoke, but I didn't really get the strength.  Like I said, I had a busy cigar week, your mileage may vary.  If you get a chance to try any of the Ezra Zion offerings, loosen the purse strings and give them a try. They are pricey but worth it, and cheap SOB CigarCraig don't say that about many cigars!  I always enjoy seeing my many cigar friends and it was a great pleasure to finally meet Fred.  Cigar people are so much fun!
Stay tuned for a series of posts about my recent trip to Drew Estate's Cigar Safari beginning mañana, Sunday May 5.  There was so much information to report on, I barely will be able to do it justice.  Needless to say, the work that goes into turning a tiny little seed into a premium cigar is tremendous!  I'll do my best, and I took a lot of pictures and video which I will share.  Also, be sure to check out Cigar Federation, which is run by the same great guys at Ezra Zion Cigars.  It's a growing community that I will try to be more a part of.
Until the next time,
CigarCraig