It's funny, the days are getting longer, and I seem to have fewer opportunities to enjoy my daily cigar walks!  I keep trying to fit them in because the dog still needs walking and so do I!  It's my cigar time, what can I say?  So Sunday afternoon was pretty nice, and I took a nice long walk with the Pooch (that's her name, she's 2 year old Pit/Lab mix with a lot of energy).  I had been sitting on the La Gloria Cubana Trunk Show samples from the IPCPR show and figured it was a good time to smoke the 7″x 60 Liga YG-23.  This is a monstrous cigar, and  will be a great one for lazy summer days in the pool.  The YG stands for Yuri Guillen, the head man at the El Credito portion of the General Cigar Co. factory in Santiago, Dominican Republic.  I'm going to make an educated guess that the 23 refers to the number of blends he went through before hitting on this one.  Sounds like a lot, but it probably isn't in the grand scheme of things, since it's really not an easy process developing a blend with the massive amount of tobacco they have to work with there.  The cigar features a band printed on homogenized tobacco leaf paper that's printed with a non-toxic ink so it's actually smokable. My samples were without the band, so I wasn't able to test this theory, and the photo here is a stock photo courtesy of General Cigar Co.  The cigar was quite tasty. It has an Ecuador Sumatra wrapper over Dominican and Nicaraguan filler and is a nice, well balanced smoke.  I probably smoked it for 2 hours, or 3 miles depending on how you measure.  As I said, I look forward to a balmy summer day in the pool for the next one….
…since it snowed Monday! I shouldn't complain, we've had a pretty easy winter snow-wise, but my calendar says it's Spring, and I'm ready for some warm weather!  So Monday night I went with the smaller, 5½" x 50 CAO Concert Solo.  The folks at StogieBoys.com were kind enough to send me a few CAO Concert cigars so, knowing I like the cigar, I dug in.  The Concert is the second new release in the CAO line since General Cigar Co. acquired the company, and it's a very nice cigar.  It's got a nice Nicaraguan/Honduran blend with a pretty Ecuador Habano Rosado wrapper.  It also has a Connecticut Broadleaf binder that I think gives this cigar a nice sweetness.  Well made smoke with a reasonable price point in the $5.75 to $7.50 range. I used the punch on this one which worked well.
Tuesday evening I went to the Flyers game with my father-in-law, and they played so poorly even a cigar wouldn't help, so I took a night off.  Tonight, however, I grabbed the other CAO Concert that StogieBoys.com sent, grabbed my new Xikar XV cutter and hit the bricks.  The cutter cut a beautiful notch in the 5½x 54 Roadie and I enjoyed the cigar as much as the others I've smoked in this series.  All of the Concert line are 5½" with varying ring gauges, and I happen to enjoy that length, it works into my schedule quite nicely.  As I said, I've smoked my fair share of the Concerts and enjoyed them.   Certainly a worthy smoke.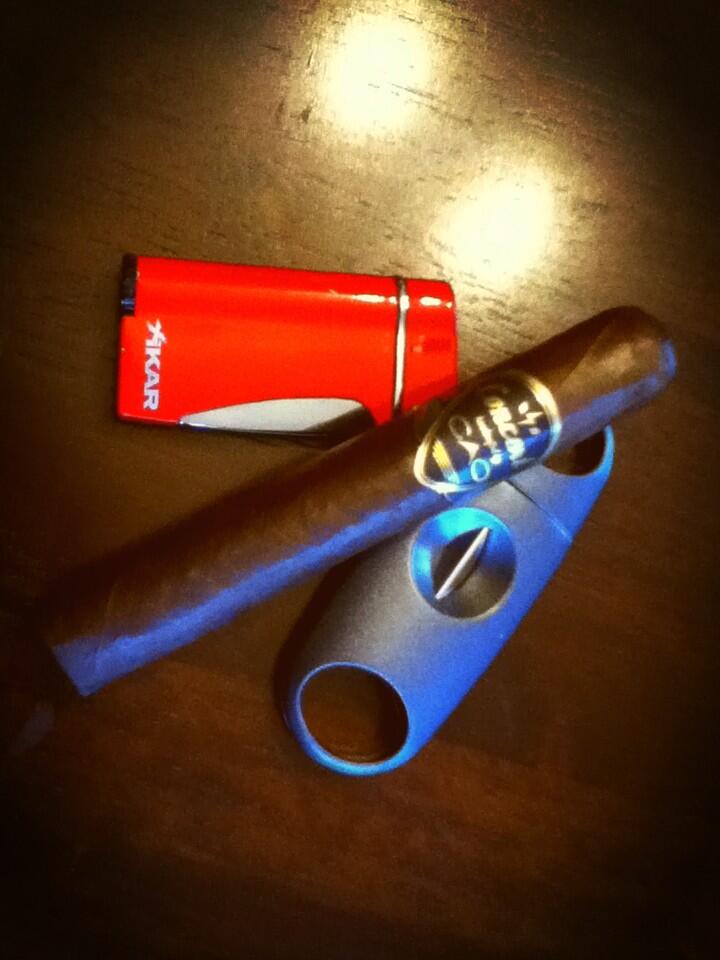 Allow me to plug the cutter for a moment.  I purchased this with the Living Social deal I got for Gotham Cigars that I ended up getting for free since some of you folks were kind enough to purchase it with the link I provided.  I kinda felt like a whore posting it, but a free $40 cutter that I've been lusting after for a while is a free $40 cutter. Thank you to those who purchased the deal, Gotham was very nice to deal with and I feel confident recommending them along with the other retailers that I've had the pleasure of coming to know over the years (although I can do without the pop-up ad!). The quality is typical Xikar (I'm still a little weirded out by the Xikar sign in the men's room at Cigars International in Hamburg, by the way), and I'm confident that if ever I do have a problem with it, their lifetime guarantee will cover it. I love the design and, I've only used it once, but I can see it becoming my go to cutter.  
News and Stuff…
I received an e-mail today from Scott at Cigars International directing my attention to one of their new website features, Cigar 101. It's an educational guide to cigars that looks to have some good cigar information.
It looks like Jay-Z will have a cigar "expert" on his tour staff.  He'll be hand-rolling cigars back stage at all of his shows. Not a fan of Jay-Z myself, but anything that presents cigars in a positive light (I think it's positive) is OK by me.
Don't forget that you can use the code "MPCGRS10" on CigarFromBrazil.com to get %10 off any purchase on the site.
I've got another discount code for you: ItalianSmokes.com has a special offer code for you, it's CIGCRAIG10 and will get you 10% off your purchase of their selection of Toscano cigars.  Look for some of their cigars featured here in the future.  I've smoked my fair share in the past and they are certainly an interesting change of pace and a lot of fun. I've enjoyed the occasional Toscano cigar since my wife brought some back from Italy in 2000.
Loads of product placement in this post, I realize that.  Truth is, I've spent my own money with just about everyone mentioned, and I'm not making any money off of this. You all know that I pass along savings and have plenty of contests for you.  Even though I get the occasional promotional cigar to smoke and talk about, I maintain a position that I won't promote a company I don't believe in and I value my honesty and integrity above everything.  Thanks for the opportunity to  share that.
Until the next time,
CigarCraig